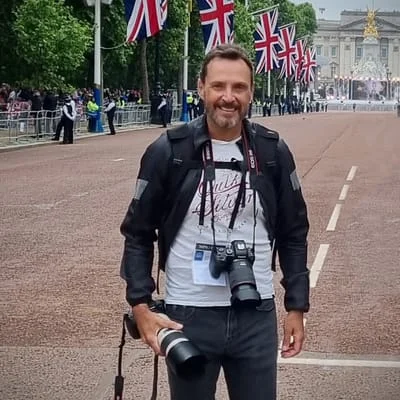 Background
I am a photographer and photojournalist with a career spanning over three decades.
My journey began in 1991 after studying Photojournalism on the NCTJ pre-entry course in Sheffield in the UK. I then went on to cut my teeth as a press photographer for a regional newspaper near London, gaining experience capturing news events and stories. Transitioning to freelance work in 1994, I worked for photo agencies and PR companies in London covering a wide range of subjects ranging from live news, royalty, concerts and sports events.
During the tumultuous 1990s, I embarked on several assignments for NGOs, documenting the refugee crises in countries torn apart by civil wars, including Bosnia, Kosovo, Sudan, and Rwanda. My work in these challenging and often dangerous environments gave me a platform to shed light on critical global matters that have consistently captured my attention.
What types of Photography and Video coverage do I offer?Events
In the dynamic and fast-paced world of events, whether they are of a sporting, corporate or historic nature, I work with organisers, sponsors and participants capturing visuals that are essential for press release, social media and publicity. I can provide fast turnaround times and even on-site transmission, ensuring your content is ready for immediate distribution when needed. I have the capacity to deliver extensive event coverage requiring multiple photographers - I am responsible for providing official photography to the world's largest telecoms event,
Mobile World Congress
, where I manage a team responsible for the capture and distribution of more than 75,000 images to the world's media. Since 2017 I have been working at the
Cannes Lions
festival for Twitter (now X), Microsoft and Influential.
Publicity for brands and organisations
I specialise in delivering photography and video to a diverse array of brands and organisations. For several years I've collaborated with the
The Metropolitan Police
to document their officers at work for recruitment campaigns & most recently in 2023 captured the Officers who played a pivotal role in ensuring the safety and success of King Charles' coronation in London. I have worked with professional cycling teams and sportswear brands, contributing to their visual storytelling through location and studio based shoots.
Portraits
Whether it's for professional headshots, family portraits, or personal projects, I can create images that leave a lasting impression, making each image a reflection of your true self or the unique character of the subjects I capture. One of the key advantages I offer is the flexibility of on-site setups, complete with portable lighting. This allows for a controlled and tailored environment, whether it's in a studio, at an event, or within the comfort of your chosen location. The use of portable lighting ensures that we achieve the perfect ambiance for your portraits.
Aerial capture
In addition to ground-based photography and videography, I am licensed drone operator and offer stunning perspectives from the sky to enhance your projects and narratives.
Who do I work with?
Please click on the tab "client list" at the top of this page to view
Why Choose Me?
A calm head, a keen eye for composition, and a natural ability to connect with my subjects are some of my strengths. I bring a wealth of experience of working with CEO's, actors, pop stars, politicians, royalty, and sports personalities, often in challenging or less-than-ideal conditions. Outside of photography, I'm always on the lookout for fresh perspectives and inspiration, whether it's through maintaining a healthy lifestyle or immersing myself in the beauty of nature.
Let's Collaborate
I'm here to help you promote your business, capture your moments, and tell your story from new heights. Whether you need an engaging video, a striking portrait, event coverage, or breathtaking drone visuals, I'm your creative partner. Contact me today, and together, we can discuss bringing your vision to life.
Further information

Contributing photographer to
Getty Images
,
Alamy
and
ZUMA press
and member of Editorial Photographers UK.
Four languages spoken - English, Catalan, Spanish and French.
Available for overseas bookings.
Client Galleries
Please click
here
to visit the gallery archives for previous commissions.


Important Note

All images on this website are subject to copyright © Howard Sayer Photography 2023. Unauthorised copying or reproduction is prohibited.