The Marathon des Sables is billed as the World's Toughest foot race....250km divided into 6 stages through the Sahara desert in Morocco in 50 degree temperatures. Runners are self-supported and only given water and a tent to sleep in. Food and equipment has to be carried by the runners in a rucksack.
I'm still not sure what possessed me to sign up for this masochistic experience but if I could take some decent photos from the experience then the suffering would have been worthwhile. I signed up with my younger brother Malcolm who had tragically lost his son to Meningitis a few years before. We decided to raise funds for Meningitis research and no greater incentive was needed for reaching the finish line.
When I arrived in Morocco the Sahara was being battered by storms and torrential rain the likes of which hadn't been seen in over a century. Torrents of water cascaded through what was preciously a parched landscape and the race was in jeopardy. Our bus to the desert was going nowhere.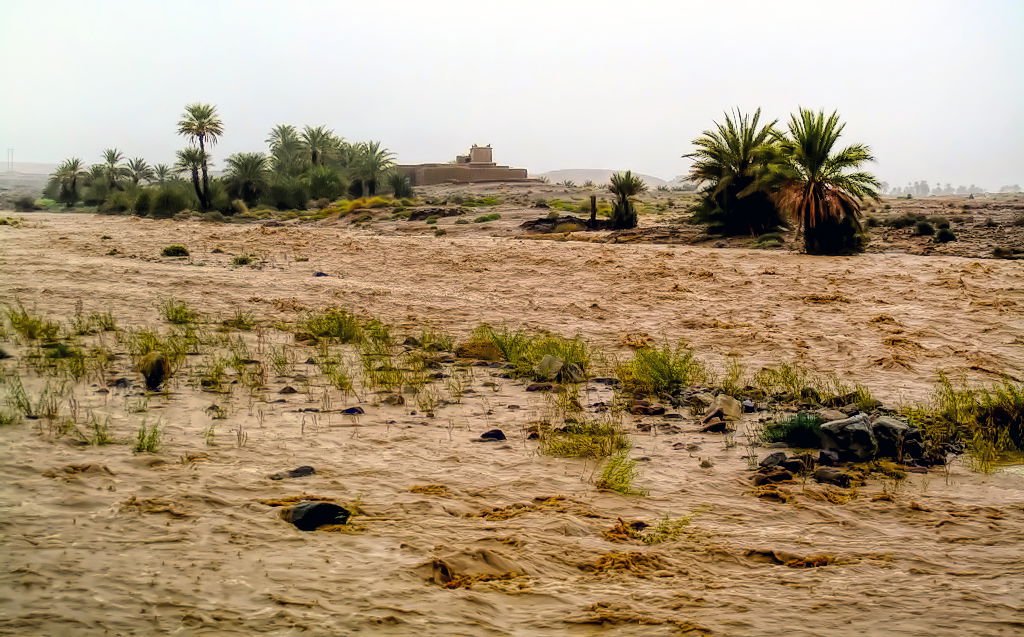 Thankfully, on the day of the race, the sun shone although temperatures were a cool 22 degrees. Perfect conditions for running. Nothing can prepare you however for 13km of 200 metre high sand dunes which seemed to stretch as far as the eye could see.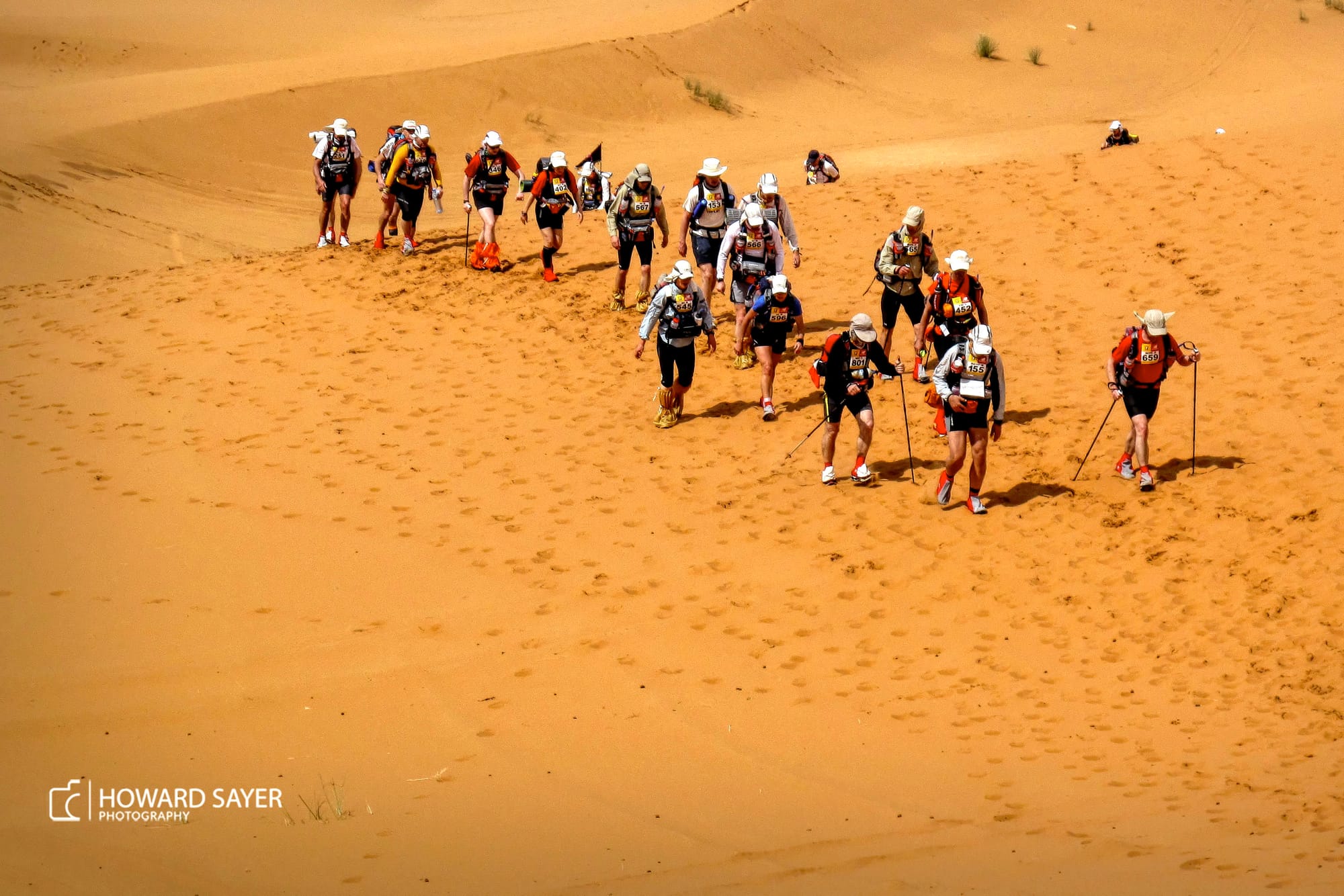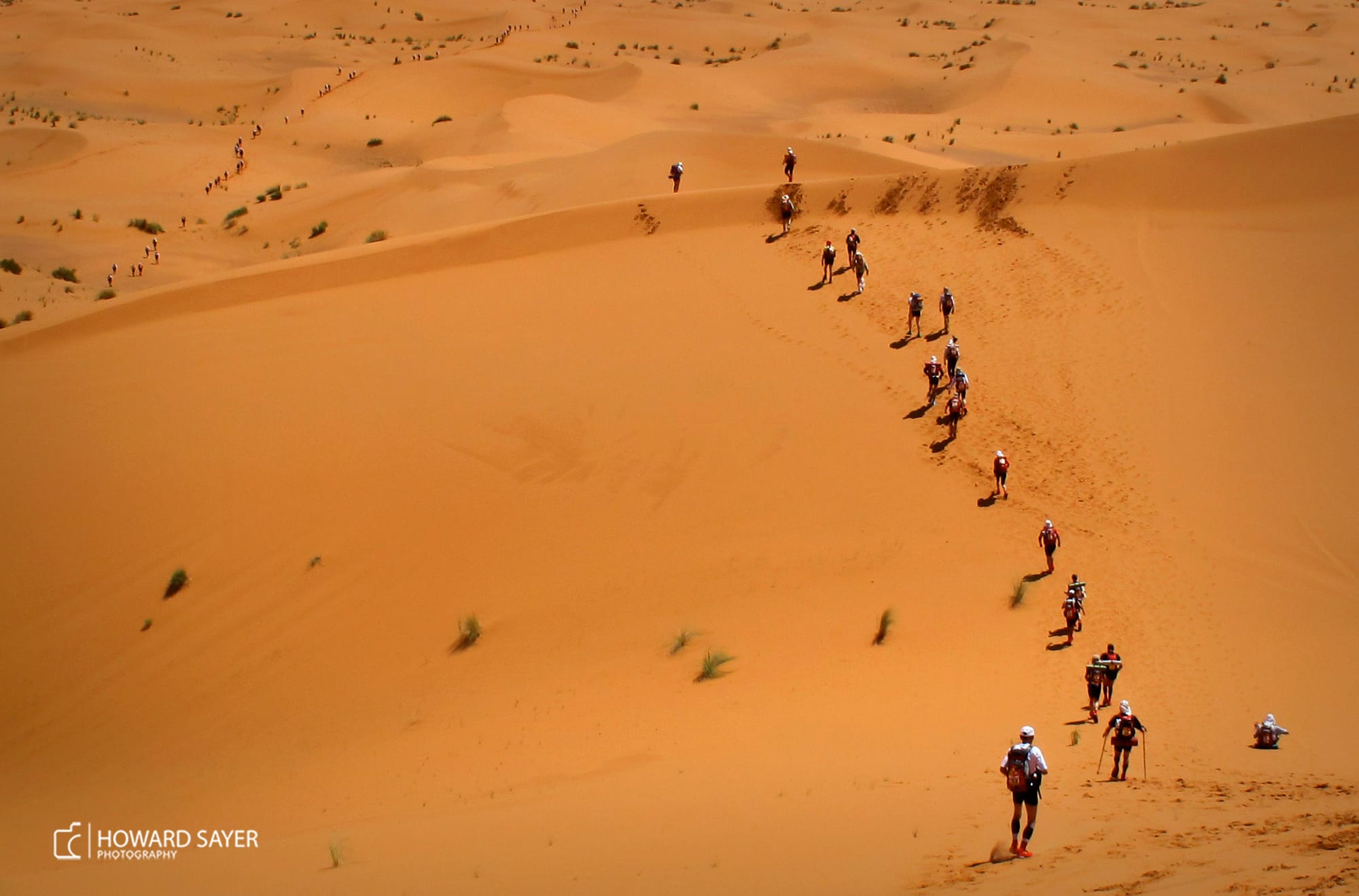 I was given two very useful pieces of advice before leaving for Morocco, to stay hydrated and don't carry too much weight. I wish I'd heeded that advice, my rucksack weighed 17kg and after one hour of running I had a terrible pain in my neck. My camera weighed 500 grams and wasn't going anywhere. I was desperate to reduce the weight in my backpack so I gave away most of my energy bars to other runners at the end of the stage. I had no appetite anyway. The following day as the stage progressed I started to feel dizzy and I didn't realise that I had become dehydrated through not drinking enough water. I remember very little of the last 10km of the 2nd stage and a visit to the medics tent indeed confirmed that I was suffering the effects of dehydration.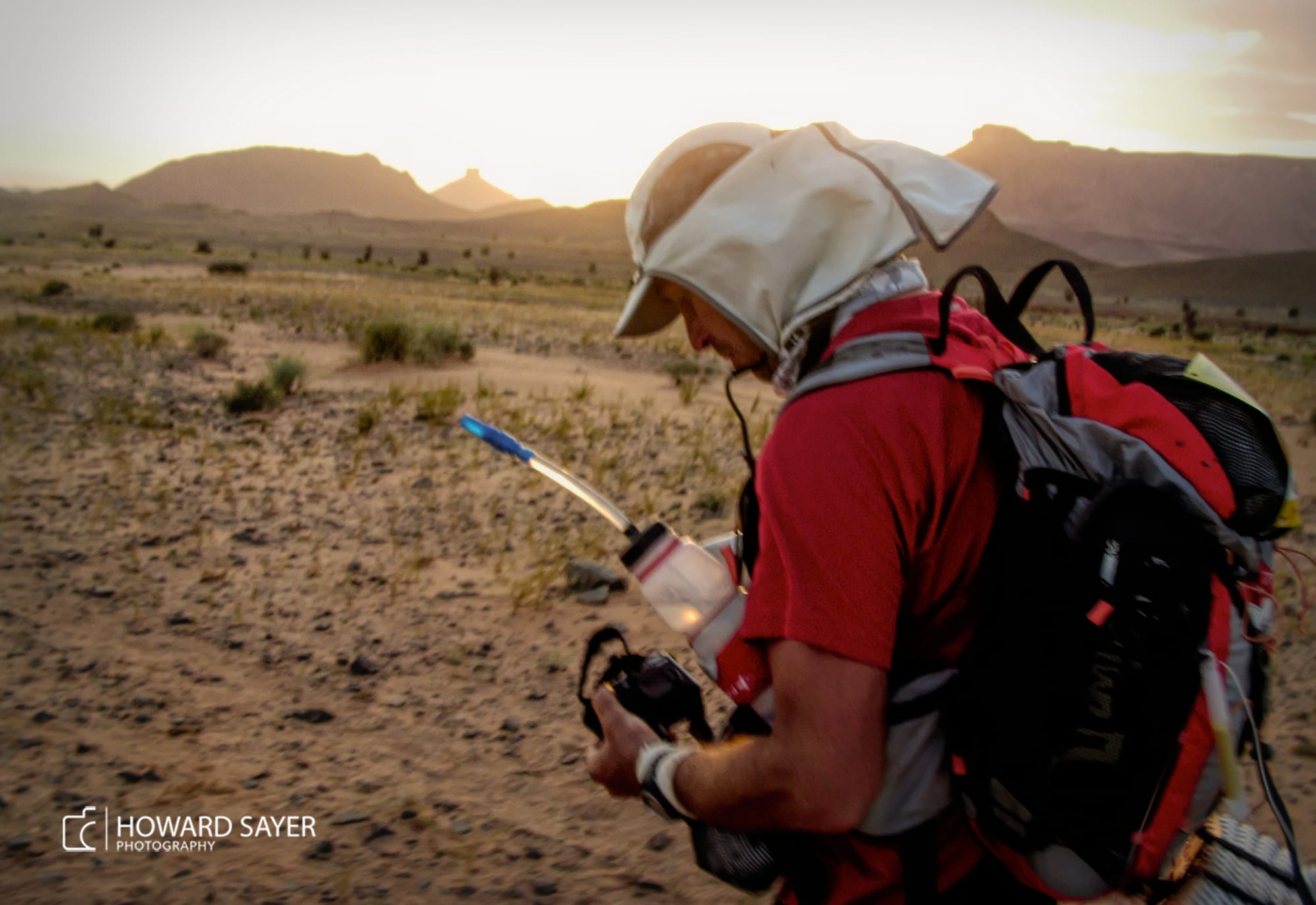 Taking out my camera whilst running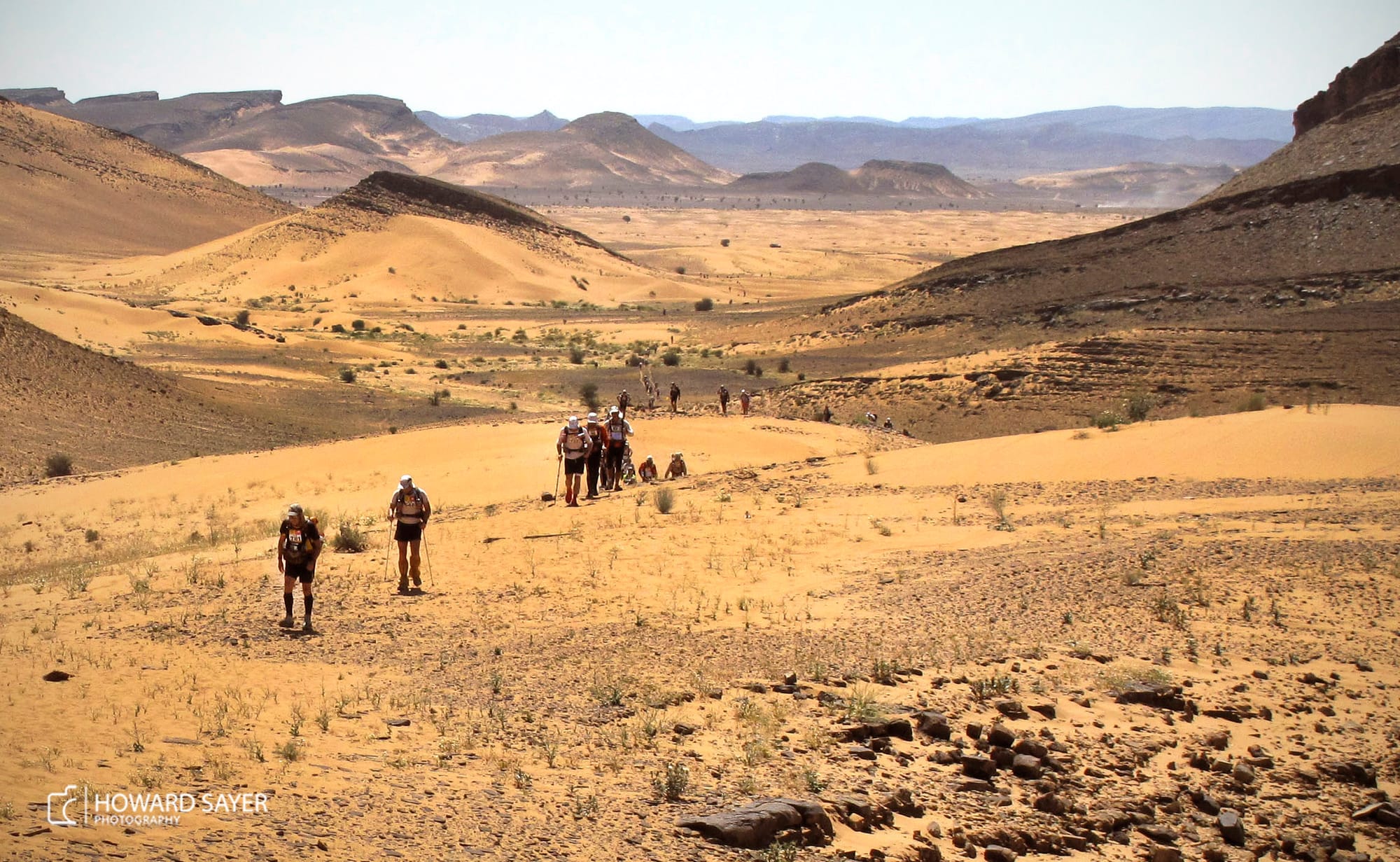 Having spent the night recuperating, I wasn't in good shape the following day to tackle the longest stage of 91km. It is remarkable though how sheer will alone is often enough to keep you going. So off I trundled and for the next 12 hours soldiered on into the night. Gradually I began to feel better and having my brother alongside me did help immensely.
The desert is a beautiful place but when suffering with sore feet and a stomach upset it's hard to appreciate that beauty whilst there. But having a camera with me allowed me to take pictures and appreciate what I had experienced after the event. Running through the night with only a headtorch and luminous markers to navigate is a very disorienting experience, even more so with sand being constantly whipped up into your face by the gusting winds. Often a small sand dune would appear and rise up to break up the monotony. A close encounter with a Scorpion at a feed stop reminding us of who really belongs in the desert.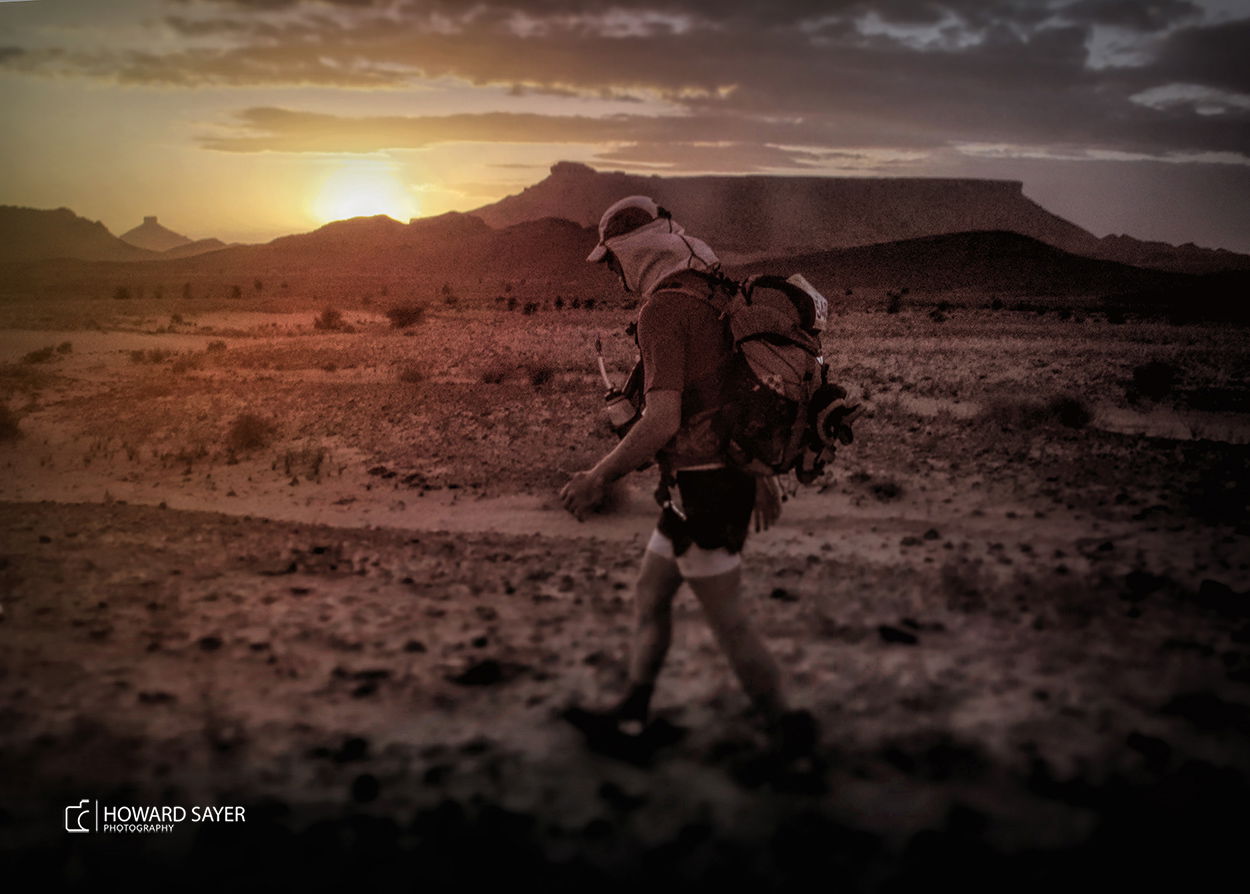 Into the night during the 91km stage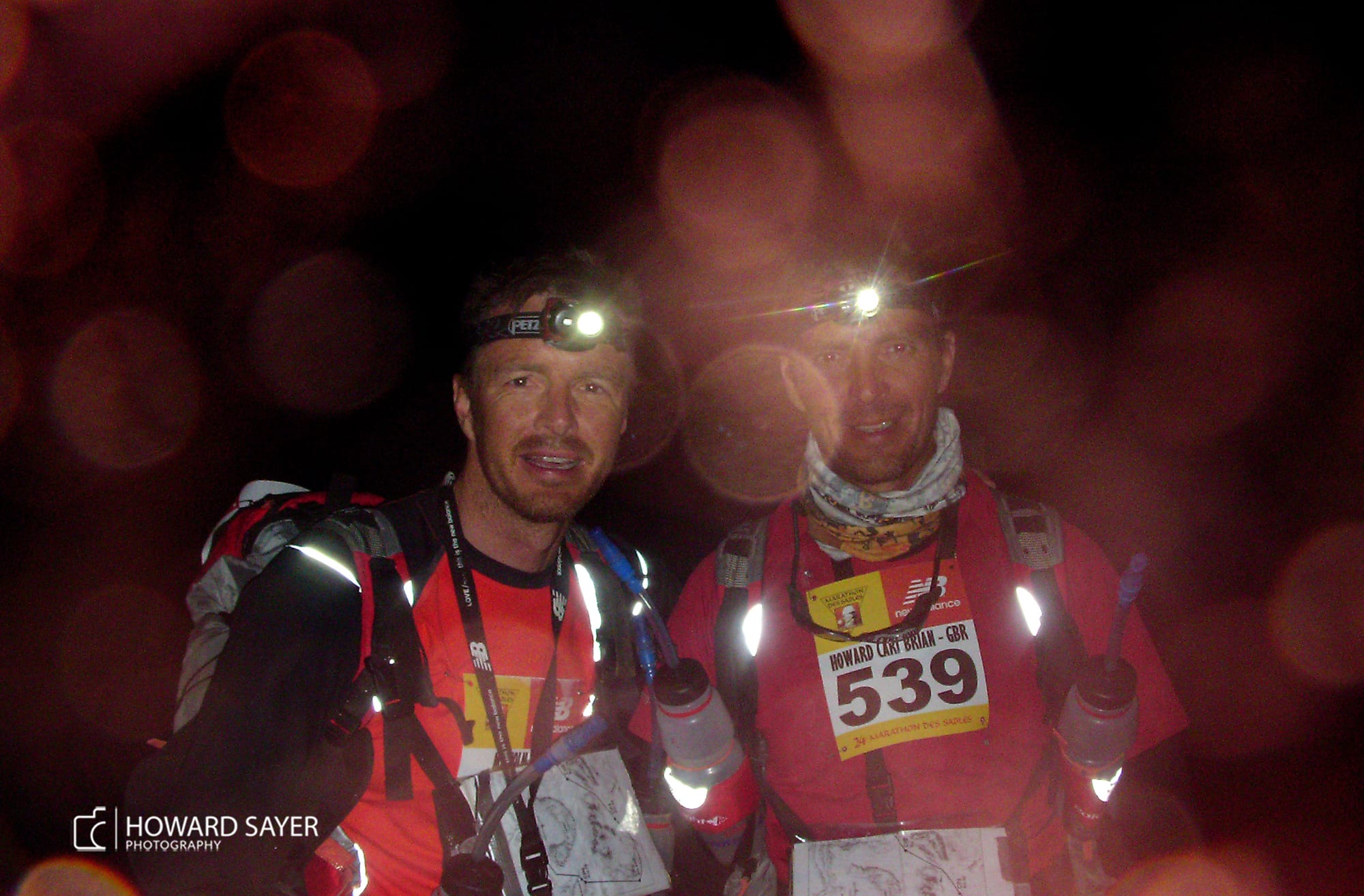 Sand storm whipping up around us at nightAfter what seemed like an eternity, a rising sun welcomed us to the finish line of the 91km stage.....a camp for the weary and broken bodies had been set up. Most runners headed immediately to the doctors tents to get their badly blistered feet sorted out before retiring back to their tents and sleeping for the rest of the day. My feet were wrecked, two large blisters on my heels and one nail already lost but I managed to patch them up with some tape and bandages in preparation for the marathon stage the following morning.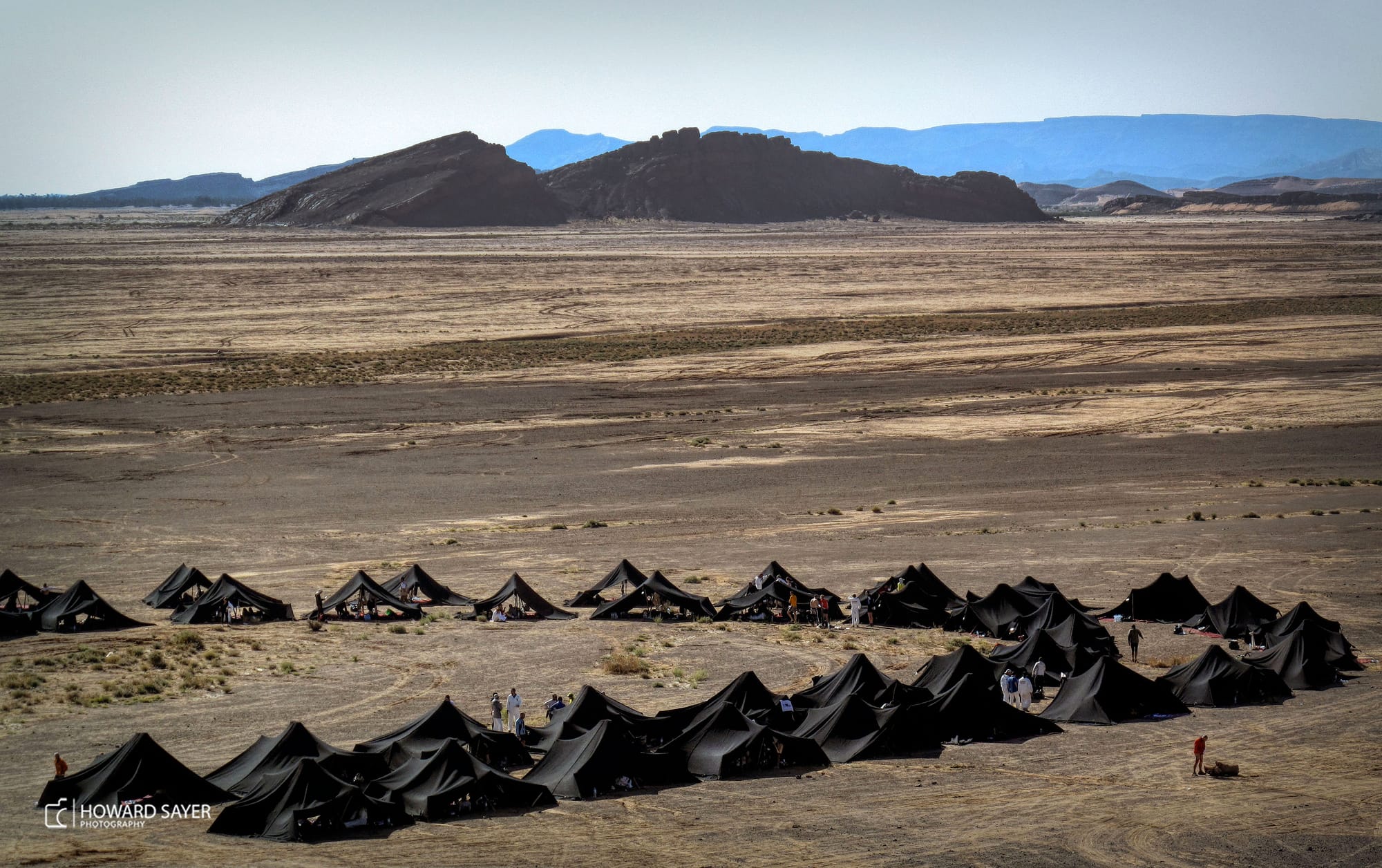 Camp at the end of the 91km stage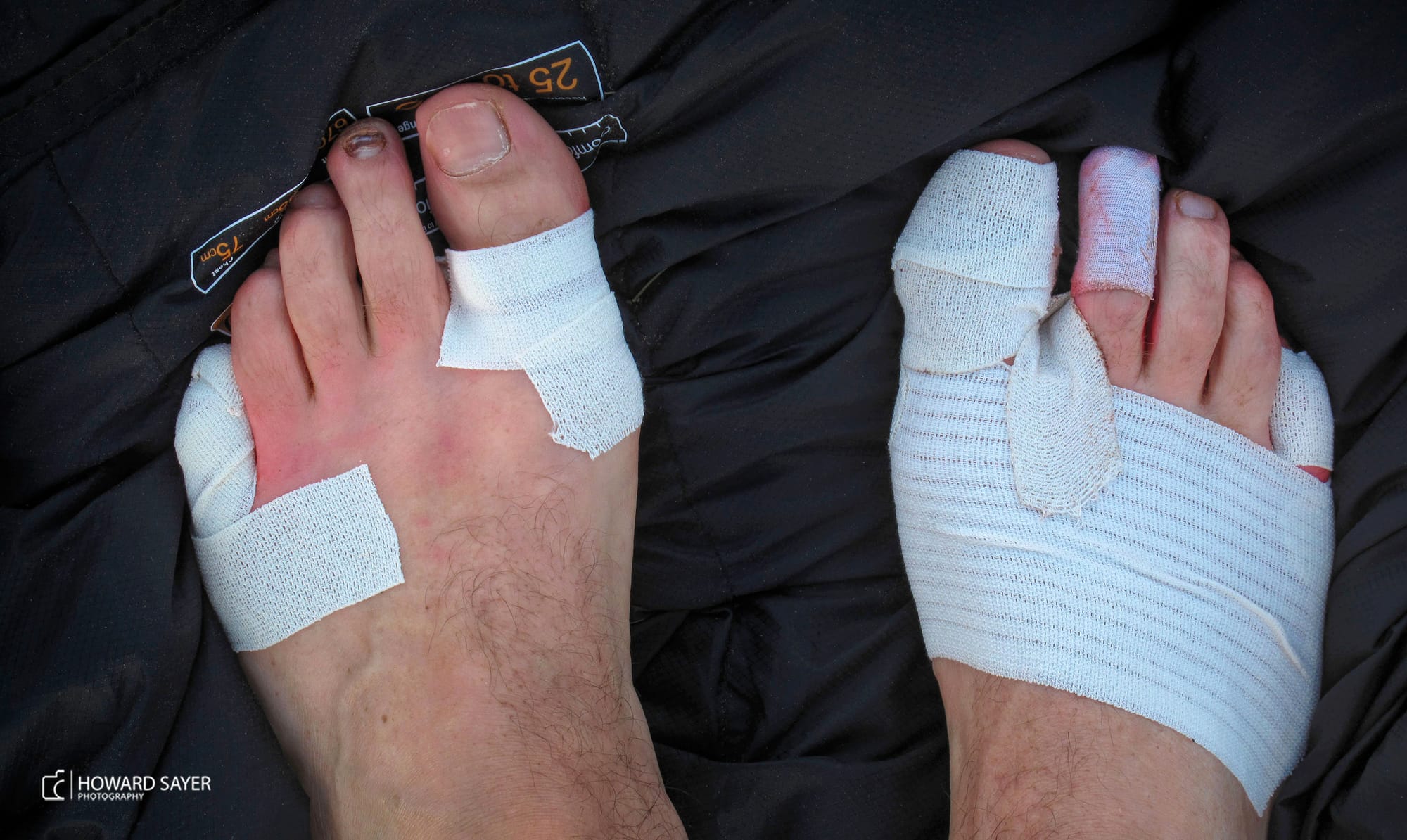 My sore feet!After a good night's rest, I was ready for the final 42 marathon stage... a carnival like atmosphere greeted us at the start line with some runners wearing wigs and other's in fancy dress. I felt more energised that at any other stage in the week and I was ready for one final long push to reach my goal of crossing the finish line and raising money for Meningitis research. I was all too aware that due to suffering during the week I hadn't taken as many photos as I'd have liked so this was the day when I would take in the surroundings and focus on getting some nice shots. It was probably the first time that week that I could appreciate what an extraordinary place the Sahara is. I took many photos during the stage and crossed the finish line in under 6 hours. I was reminded by my brother recently that I uttered the words "never again" but something at the back of my mind tells me I'll return again one day.
Runner dressed up at the start of the final stage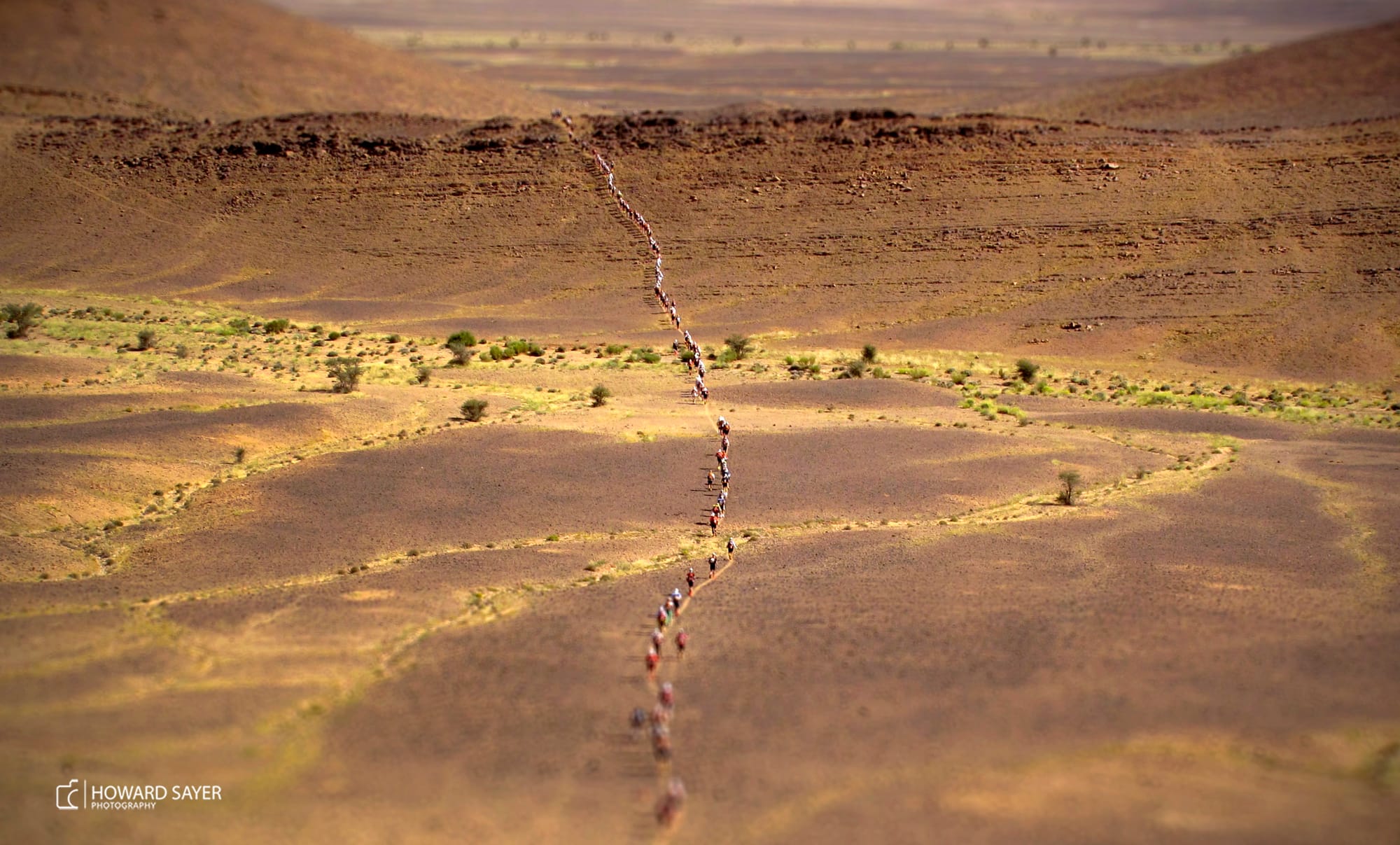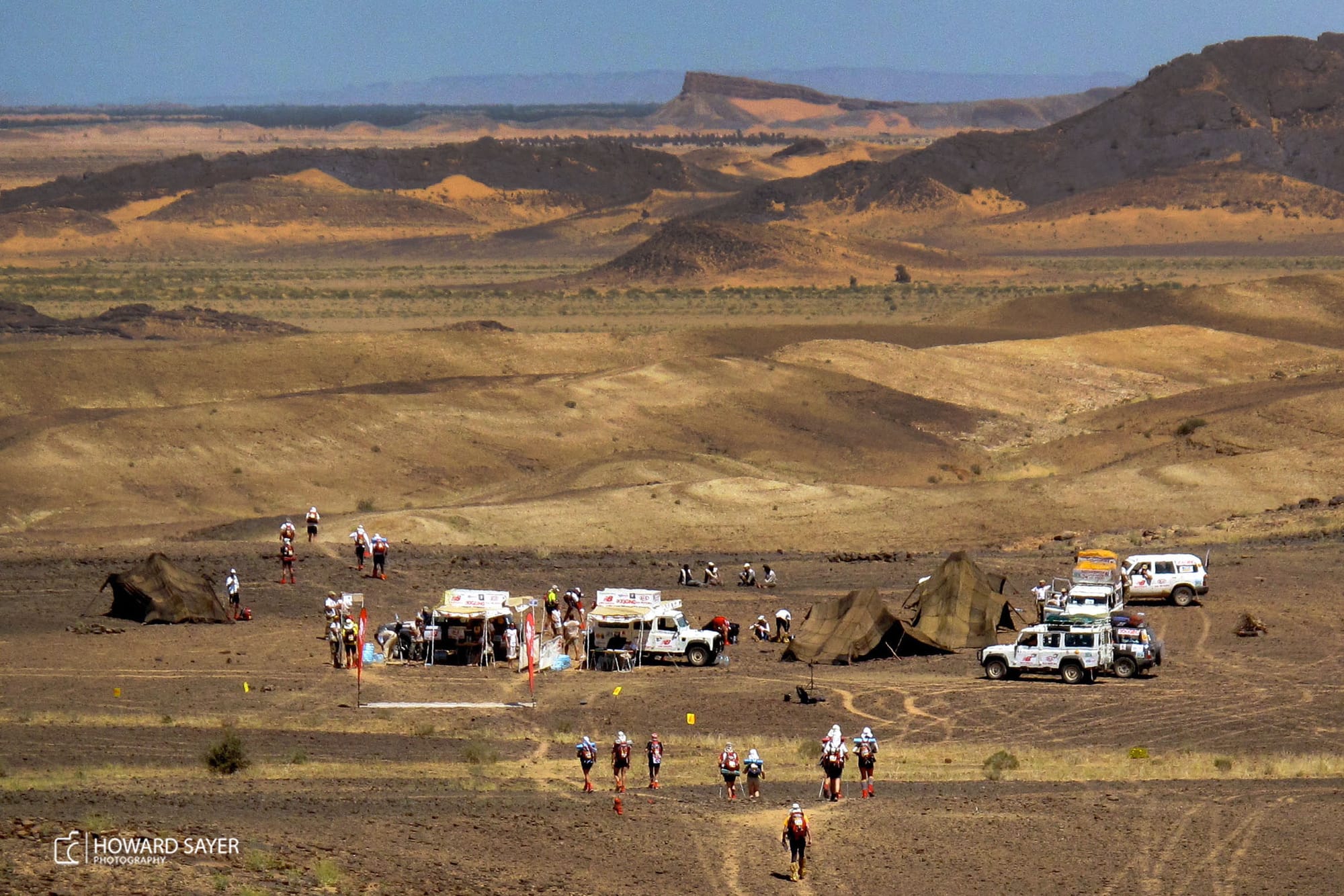 Feed stop always the most welcome sight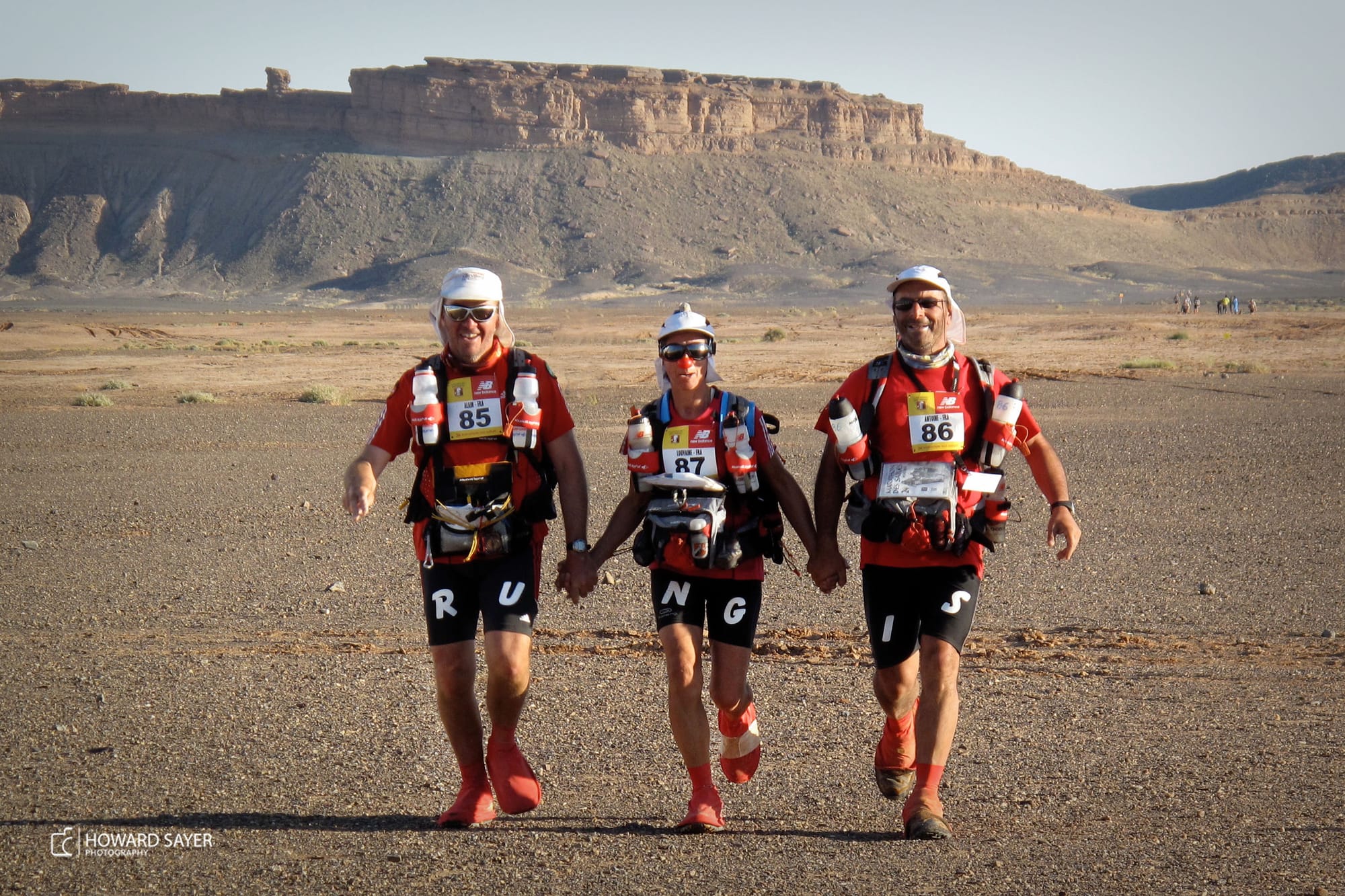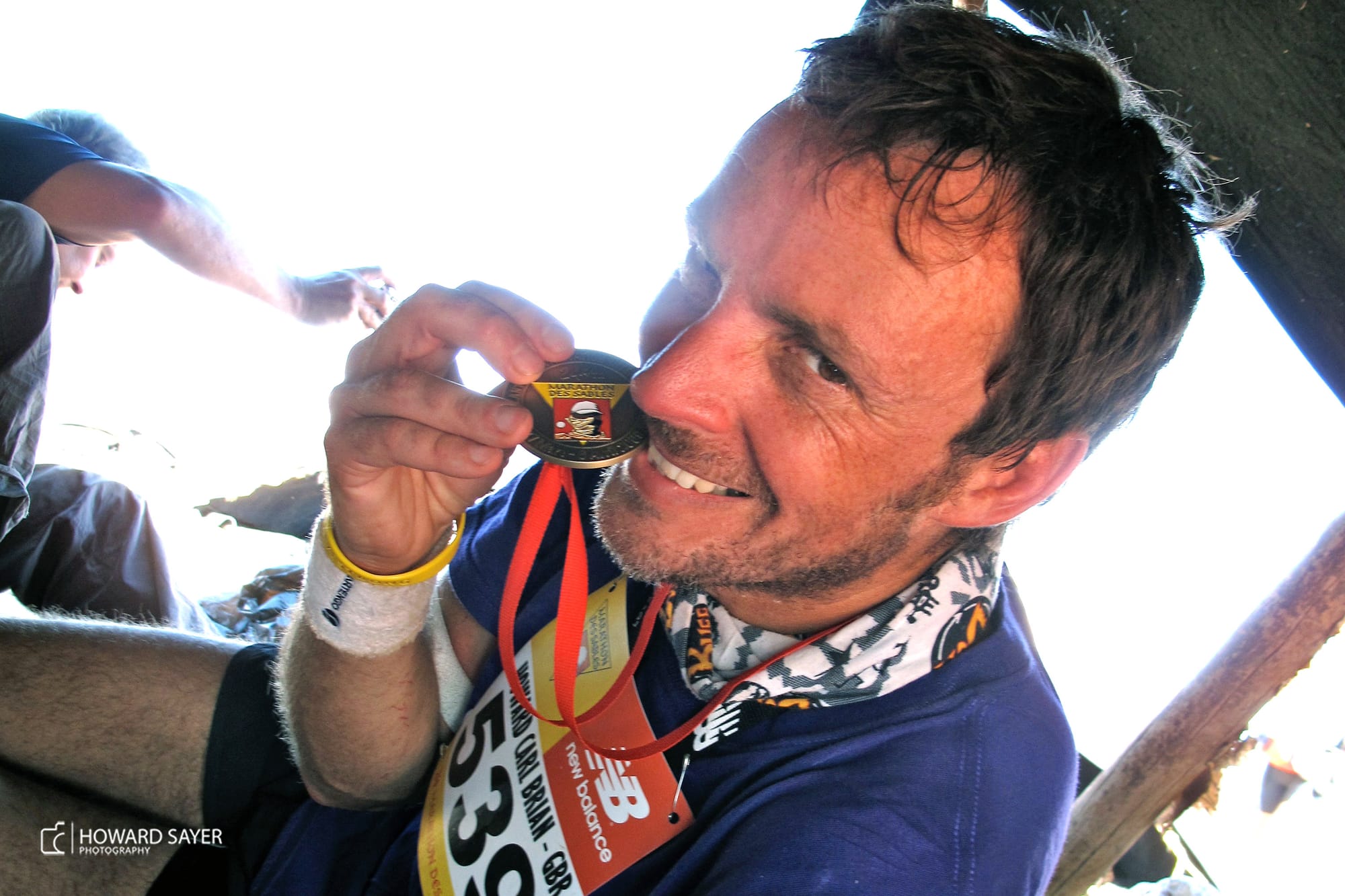 Job done!